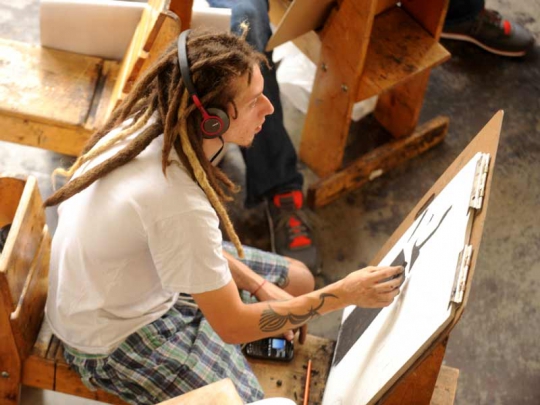 Studio Arts Associate in Arts Degree for Transfer
Program Code: 2A31520
The Associate in Arts in Studio Arts for Transfer (AA-T), also called the Studio Arts AA-T Degree, prepares students to transfer to CSU campuses that offer bachelor's degrees in Studio Art. Students earning the Studio Arts AA-T will be granted priority for admission as a Studio Arts major to a local CSU, as determined by the CSU campus to which the student applies. This degree requires students to complete 60 CSU transferable units including completion of CSU GE or IGETC and 24 units in the major with a cumulative GPA of 2.0 or better. Title V requires that students earn a grade of 'C' or better in all major coursework. There are no additional graduation requirements. This degree is designed to prepare students to understand and appreciate various art forms and art media, and guide them in choosing an appropriate path for them to follow for the demonstration of their creativity. While a baccalaureate degree is recommended for a possible career in gallery and museum presentation, Art Criticism, Commercial Art, Art Education, and many other Art-related careers, completion of this curriculum will demonstrate commitment to the serious study of Art in practice and in theory, and provide comprehensive preparation for upper-division work. The Studio Arts AA-T Degree program requires 24 total units of which 12 units are in required core courses. In addition, a total of 12 units are required from a list of restricted electives: 3 units in restricted electives required in Art History, and 9 units from a list of Studio Arts restricted elective courses.
Program Level Student Learning Outcomes
Outcome 1: Analyze and arrange visual components according to recognized design standards. Outcome 2: Create work in two-dimensions and three-dimensions in a variety of different disciplines and media. Outcome 3: Recognize artworks of ancient and/or modern Art History and demonstrate an understanding of their significance within a social-political context.
Core Courses complete the following courses:
Units:12
Art History: Renaissance to Modern
Art History Restricted Electives:
Units:9
Introduction to Printmaking
Ceramics: Beginning Handbuilding
Fundamentals of Sculpture
Introduction to Digital Art