Exhibition Calendar
Fullerton College's reputation is tied to the quality of its art exhibitions and visiting artists. These exhibitions include the works of established artists who participate in the Fullerton College Artist-in Residence Program, the works of local emerging and mid-career artists, borrowed works of public and private collections, as well as the artworks of students attending and enrolled in Fullerton College fine art studio classes. Fullerton College owns an impressive Permanent Art Collection, which is showcased biennially; alternating exhibition years with the Faculty Exhibition. The gallery goal is to show diverse exhibitions that represent various disciplines in art and span a wide range of curatorial theme and focus.
Current and Upcoming Exhibitions: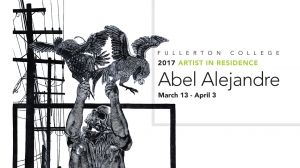 Abel Alejandre: Committed to the Line
Exhibition
March 13th, 2017 - April 3rd, 2017
Art Gallery Room 1004
Abel Alejandre frequently explores the public and private spheres of masculinity. He has spent time examining the concept of masculinity, manhood, and codes of conduct through the lives of men in his...
Read More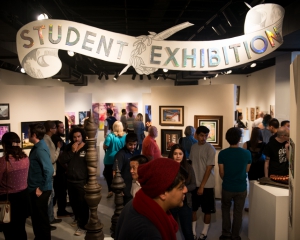 Student Art Exhibition
Exhibition
May 8th, 2017 - May 17th, 2017
Art Gallery Room 1004
This annual exhibition presents the best of the best artwork created during the current academic year. Prizes will be awarded to the students who demonstrate the highest artistic merit. Many works...
Read More